I have finished the exercise I proposed in Pt. 1 of Finding the Master Within, and below are my results:
1. I played over 3 random games from each of the masters on the list.
2. I gave myself a 0 for needs work, 1 for average, 2 for good, 3 for very good and 4 for outstanding.
3. I averaged the scores for the three games, and gave myself an overall score.
4. I will now begin reviewing  in detail, the games of the master with which I have the most affinity.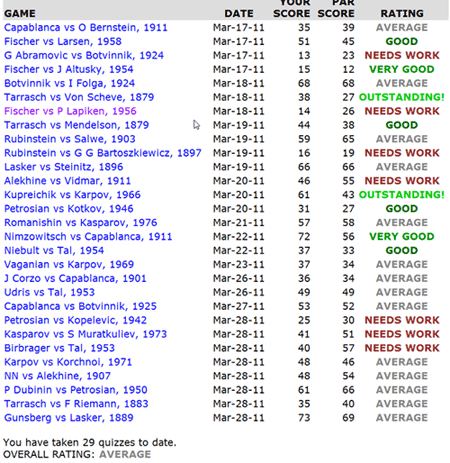 In my case I scored an average of 2.67 when playing over Tarrasch's games, and the second runner up was Karpov with a score of 2.0. I observed that I did better with the more positional / classical style players than with the more modern / dynamic styles.
I will continue to go over master games strictly focusing on Tarrasch's games using Guess the Move, and then compare my annotations with his annotated games collection( Three Hundred Chess Games ).